Merchandise
---
The Plaza offers a range of merchandise, the sales of which contribute to restoring and maintaining our award winning Art Deco gem.
Merchandise which is a perfect indulgence for yourself or a gift which can be purchased from The Plaza can be purchased in person from The Plaza, by sending a cheque made payable to 'The Stockport Plaza Trust' c/o The Plaza, Mersey Square, Stockport, Cheshire SK1 1SP or for ease why not purchase on line and with a standard postal charge of £2.50 per transaction (within the UK) we will send your merchandise promptly.
For international orders please email ted.doan@stockportplaza.com prior to placing your order as an additional shipping charge may apply.
SaveSave
Tea Towel
A high quality tea towel with a wonderful illustration of the Plaza printed on both sides
£6.50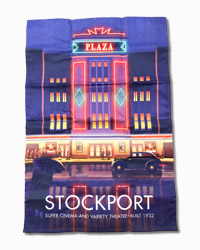 Gift Card
Featuring a vintage image of the Plaza, this gift card is the perfect accompaniment to our range of gift vouchers.
£1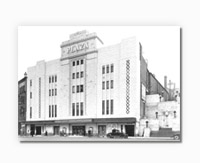 Tote Bag
A wonderful, cream coloured tote bag featuring an illustration of the Plaza on the front.
£8.50
Deluxe Tote bag
Our deluxe tote bag featuring an illustration of the Plaza, with the design running to the edge of both sides of the bag.
£10.50
The Plaza's Millennium Re-Birth - Part 2. The Work Continues
Published by The Friends of The Plaza this continuation of the story of The Plaza restoration entitled 'The Plaza's Millennium Re-Birth - Part 2. The Work Continues' provides an fascinating insight into the Plaza restoration picking up where Part 1 finishes up until works taking place in 2017.
£6
Champagne Afternoon Tea Voucher
Our delicious Plaza Afternoon Tea with a chilled glass of Champagne, the perfect indulgence for a loved one to enjoy in the elegant Art Deco Plaza Café.
£22.50
Plaza Afternoon Tea Voucher
Treat your loved one to a sumptuous Afternoon Tea of finger sandwiches, homemade scones and cakes in the Art Deco surroundings of the Plaza Café.
£16.50
£20 Voucher
Not only are you giving the perfect gift to a loved one, friend or colleague but your purchase of one of our Plaza gift vouchers ensures that you are helping support our Charitable Trust with our commitment to serving our local community and restoring and maintaining our Art Deco gem.
£20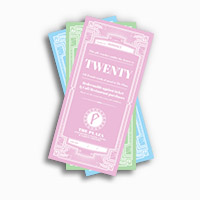 £10 Voucher
Our gift vouchers can be redeemed against all of our Big Screen and Live Stage presentations as well as for a delightful indulgence in our Café Restaurant.
£10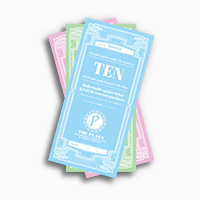 £5 Gift Voucher
The Plaza Gift Voucher is the perfect gift that you can purchase with confidence knowing that from 1 to 101 there will be something for everyone at your local Plaza Super Cinema and Variety Theatre.
£5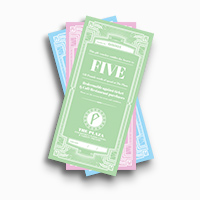 The Plaza Cookbook
Featuring a range of recipes this is the perfect addition to any kitchen collection Sponsor a Seat (Link to Sponsor a seat page) Be our guest and join us in our beautifully restored auditorium as we offer you the perfect way to share your support for the astounding work done to date within The Plaza Restoration and Maintenance Appeal by sponsoring one of our luxurious auditorium seats.
£6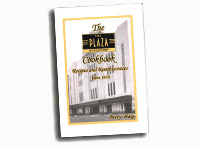 The Plaza present – The Mighty Compton Organ – Music CD
The Mighty Compton Organ is rare that she is still located in the original Super Cinema and Variety theatre for which she was built. Featuring a host of the finest melodies this CD shows why The Might Compton is still at the very heart of our venue abeing enjoyed by capacity audiences to this very day.
£9.50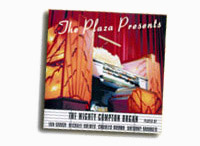 We'll See You in the 1930s – Music CD
Featuring Michael Holmes and Roy Chappel with the Mighty Compton Organ this CD will be a must have for all music lovers with its rich tones and sumptuous melodies recorded at The Plaza
£9.50
Plaza Pin Badge
The original and existing 'Plaza P' logo which is still in use today was embossed in these delightful pin badges worn proudly by our Plaza team and all supporters of our magnificent venue (24mm diameter, antique silver finish)
£2.50
Plaza 'Full of Dreams' 80th Anniversary DVD
Commissioned on our 80th anniversary year, 'Plaza Full of Dreams' charts the history of Stockport's 1932 Art Deco Super Cinema and Variety Theatre from her early days as a successful Super Cinema to her eventual saving and restoration to the magnificent award winning venue that looks forward to a bright and healthy future under the expert guidance of The Stockport Plaza trust.
£12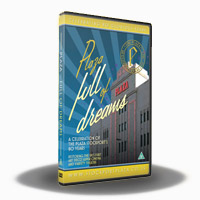 History of The Plaza book - Part 1 (2012 Edition)
Published by the Friends of The Plaza this fascinating book provides an insight into the amazing rescue of The Plaza from her final days trading as a Bingo Hall to the glorious restored Super Cinema and Variety Theatre that is a much loved artistic gem today.
£5
---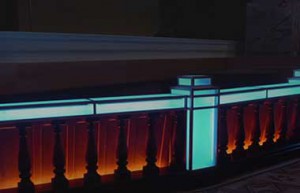 Support the Stockport Plaza
Help us to continue our restoration project with a one off donation.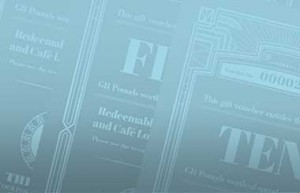 Why not buy a Plaza Gift Voucher?
For someone special what better than an unforgettable visit to the local theatre?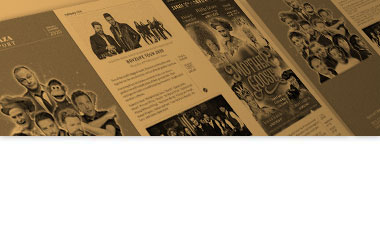 Download our latest brochure
Covering all our events