The Plaza's COVID-19 Safety Measures
We are delighted to be welcoming visitors back to The Plaza and our priority is to ensure that your visit is safe and enjoyable.
COVID-19 has brought about a number of changes to our operation that will be reviewed in line with local and national government guidelines for the comfort and safety of staff, artists, and visitors. These include:
Improved ventilation
Enhanced cleaning protocols
The provision of anti-bacterial hand sanitiser
Contactless payments/tickets
In addition to these measures other procedures are in place but will be closely monitored. These include:
The wearing of facemasks as optional for anyone within our building
Enabling our visitors the opportunity to register admission using the NHS QR Code
All of our procedures are designed to keep everyone safe and ensure that all our visitors can enjoy their visit. Please respect our staff/volunteers at all times during your visit as they implement the processes we have put in place to support everyone's wellbeing.
Below are some FAQs that you may find useful and if you have any queries relating to your booking or your visit to the venue please contact us via email.
Face Masks. Do I need to wear a face mask when visiting The Plaza?
In line with Government guidance from Thursday 27th January 2022 it is no longer mandatory for visitors to wear a face mask when attending Theatre/Cinema events at The Plaza.
Can I buy tickets at the venue?
The Plaza on site box office will be open for one hour before designated events and you can book for that performance only. Tickets for all future performances can be bought in advance from the on site Plaza Box Office during general opening hours (see Booking Page for details) on line or via our Booking Line 0161 477 7779 and e-tickets will be scanned at the entrance to the auditorium. Please print your tickets at home or show them on your mobile device.
Can I get a refund if I have symptoms or have been asked to self-isolate?
No one with symptoms or who is required to self-isolate should attend the venue. With that in mind, our ticketing providers Quay Tickets have updated their terms and conditions so that you now have up to 24 hrs before a performance to return or exchange your tickets for these reasons.
If the show is cancelled will I get a full refund?
If we are required by any COVID-19 government guidance or restrictions to cancel a performance, tickets will be exchanged or refunded.
What if I have problem with my booking or e-ticket?
If you have any booking queries, please email info@quaytickets.com and a member of the team will be able to assist you.
What happens when I arrive at The Plaza?
We will be conducting our standard security checks when you arrive at the venue and would ask that you do not bring large bags with you as cloakroom facilities will not be available.
We would ask for your patience and understanding with our staff when you arrive at the building as all of our procedures are in place to ensure your safety.
If you are attending a theatre or cinema show we will encourage you to take your seat as soon as you can to avoid congestion in foyer areas.
The NHS QR code will be displayed on arrival.
Will there be social distancing at The Plaza?
As per the government guidelines we have returned to full capacity audiences with no social distancing.
Anyone who wishes to change or cancel their booking in light of the change in circumstances will be able to do so and please contact our ticketing providers at info@quaytickets.com with the details of your booking and a member of our team will be able to assist you.
How often will The Plaza be cleaned?
The Plaza will be cleaned between every show.
Sanitiser stations will be located at the entrance to the venue and throughout foyer and bar areas.
What if I develop any COVID-19 symptoms or have been in contact with someone with symptoms?
You should review the current guidelines on the GOV.UK website which give a clear explanation of your personal responsibilities if you or someone you are close to has Covid symptoms and undertake those actions accordingly.
If you have any further queries please contact us at info@quaytickets.com and a member of our team will be able to assist you.
Greater Manchester Cultural Venues
– COVID-19 Pledge
As cultural venues across the city-region begin to re-open their doors and spring to life once again, as a sector, we want to reassure audiences and visitors alike that your health and wellbeing is our upmost priority. No two venues will respond in exactly the same way. Our venues are different sizes, shapes and operate in different ways appropriate to the needs of those individual businesses.
What is consistent, however, is the thrill and excitement our artists, production companies, staff and volunteers feel at the thought of being able to share great art and culture with you again face to face. It has been a tough old time, but we're back, side by side and cannot wait for you to join us.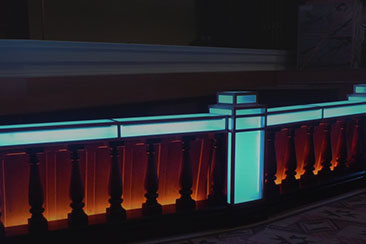 Support the Stockport Plaza
Help us to continue our restoration project with a one off donation via JustGiving.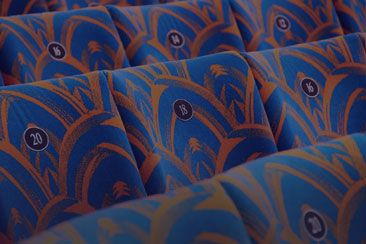 Sponsor A Seat
Share your support for the Plaza Restoration and Maintenance Appeal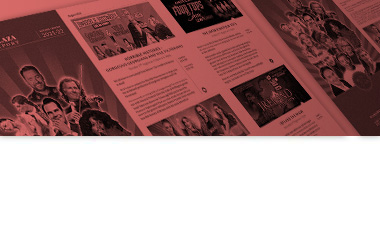 Download our latest brochure
Covering all our events